The stylish enclosure design really makes this touch screen stand out from the crowd. The bezels are so thin that the display area occupies more than 91% of the overall screen size. Designed with aluminium bezels and a moulded polymer rear, the screen is so lightweight it can even be mounted on a stud wall.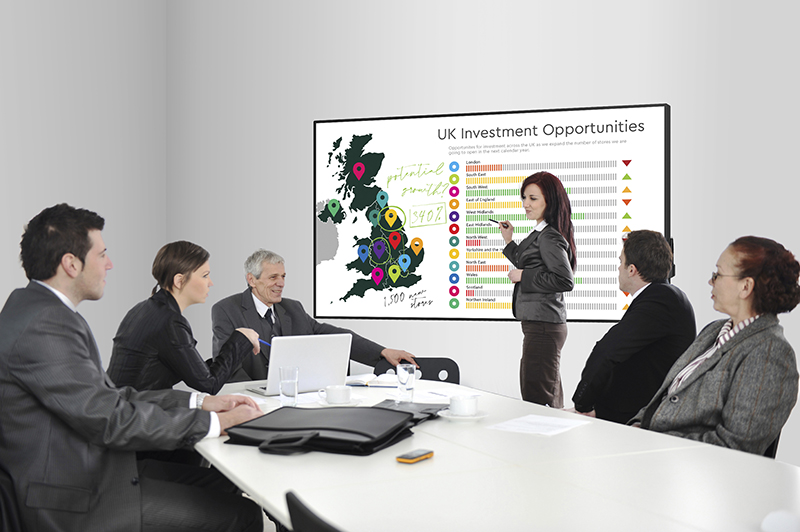 4K Display
The 4K Ultra HD display delivers incredible image quality with four times resolution higher than Full HD. Optimised for viewing distances both near and far the display allows your content to take center stage for all your visual communication.
Multi-Device Wireless Mirroring
Wirelessly project the displays of up to four smartphones, tablets, laptops, PCs or Macs. Using mobile devices you can mirror the display in both directions, and even take control of the touch screen. Mirroring via 5GHz allows for fast response, all without the need of external wires or transmitters.
Easy File Sharing
Once your device is connected you can quickly and easily share documents, videos, images and audio files stored on your smartphone, tablet, laptop or PC directly to the touch screen. You can also share files from the touch screen to your device via email or by scanning a QR code with your mobile or tablet.
Flexible Working Tools
Personalise your experience by changing the background colour of the display, as well as the colour and thickness of your drawing tools.
Smooth Annotations
The line thickness of your annotations varies depending on pressure and speed, allowing you to achieve a realistic and natural handwriting experience.
ConnectShare Dongle
Quickly and conveniently mirror from your PC, laptop or Mac using the ConnectShare Dongle. Just insert it and launch the built in software, without the need to install any applications.
Optional OPS Windows PC
For seamless integration onto existing networks an OPS PC can be installed into the rear of the display, allowing for ultimate flexibility to switch between Android and Windows effortlessly.
20 Touch Points
Ideal for large group collaboration, up t o twenty users can interact with the screen simultaneously when working on group projects..
Touch Screen Monitor
As well as using the built in Android system these displays can also be used as a t ouch screen monitor by connecting a PC or laptop via HDMI and USB. There is also a HDMI out t o duplicate the touch screen display to a second monitor.
Slim Bezel
The screens feature an extremely sleek and narrow bezel meaning that the enclosure to display area ratio is very low. The front is crafted from segmented aluminium to achieve ultimate precession while the polymer rear keeps the display super slim and lightweight.
Easy Access Ports and Controls
As well as having a power and standby button there are also two front facing USB ports. These are ideal for quickly and conveniently connecting USB sticks containing files that you need to access from MeetingPad or the optional OPS P
Etched Glass
Improves tactility for smoother touch gestures, especially useful for multiple users. The anti-glare nano coating also diffuses external light improving optical clarity.
Freeze Frame Function
While your laptop is connected you can freeze the image on screen so that you can continue to work independently on your laptop.
Integrated Speakers
The screens have two integrated super slim 10W speakers for presentations that include an audio elemen t.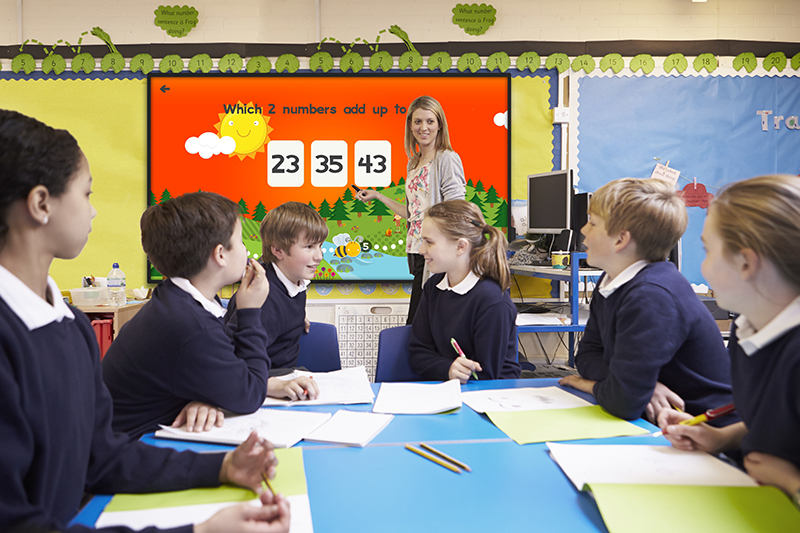 Download More Information